Celebrate Oktoberfest Beginning September 17
Do you enjoy a nice cold brew now and then?  If so, you'll be happy to know that you can join legions of others and lift a cold one to celebrate Oktoberfest beginning September 17.   (That's day after tomorrow, by the way.)  And, you can keep on celebrating Oktoberfest for weeks to come, since it actually lasts all the way until October 3.
 Oktoberfest 2011 is September17 – October 3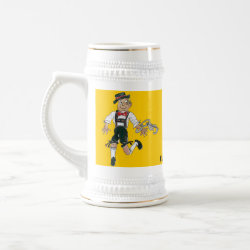 Oktoberfest Munich Germany Beer Stein Mug
by zooogle
The very best spot to join in the revelry is in an authentic beergargten in the beautiful city of Munich.  So, look into those air fares now and see if you can find a last minute special.
Of course, not everyone emjoys the luxury of being able to fly off to another country at a moments notice – myself included.  So, short of that, you can still celebrate.  Most every good sized population area has at least one great German restaurant.  Find one of those and get yourself a table there.  Many will have something a little extra to offer during Oktoberfest – perhaps special dishes, two for one specials on some of that great German beer, or even just a leiderhosen-clad musician.  (After all, why miss such  a perfect marketing opportunity?)
Or, you may want to host your own little Oktoberfest in your backyard.  If you do, be sure to have some beer steins on hand for toasting in style.  They're widely available, and will come in handy for other occasions, too.
Now, if you want to ponder a really weighty related topic, you might pay a visit to Mugs, Cups, and Steins, and bone up on the differences between these three different types of drinking vessels. 
Pick your poison, pick up your stein, and enjoy celebrate Oktoberfest beginning September 17!